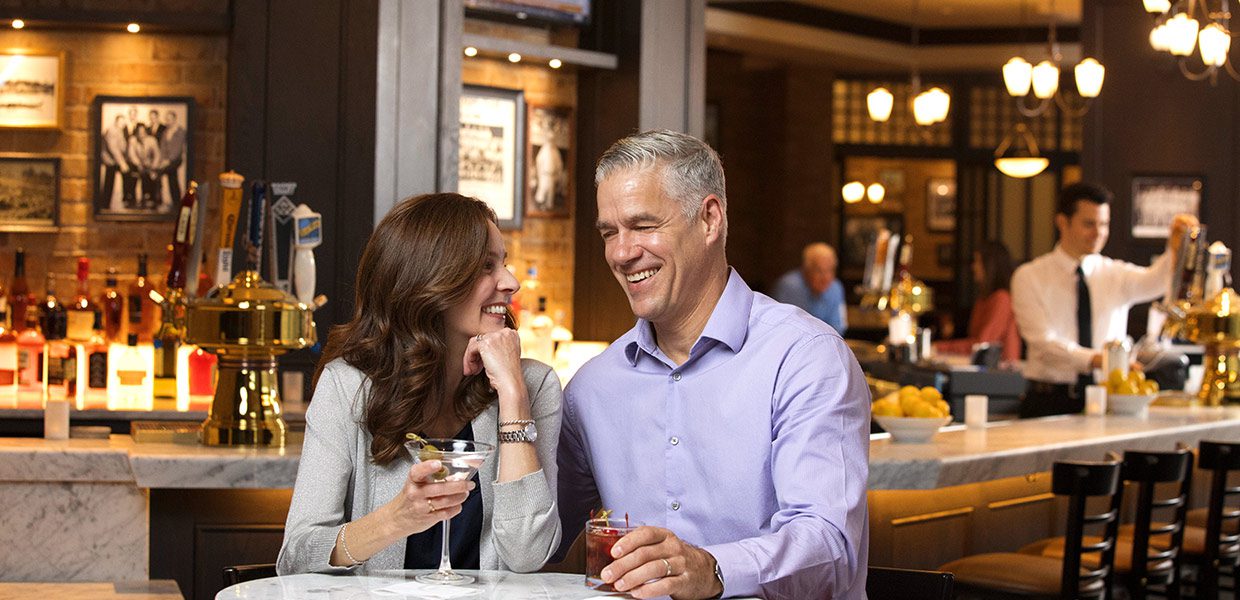 We were old before it was cool and we were cool before you were born. Since 1884 serving fresh food, frosty drinks and good old fashioned conversation.
Located in our hotel we offer indoor dining and a fabulous outdoor patio for seating overlooking our Live Harness Race track. (Weather permitting)
HOURS:
Dinner:
Wednesday & Thursday: 4pm-9pm
Friday & Saturday: 4pm-10pm
Sunday: 4pm-9pm
DINNER MENU

RAW BAR
FRESH OYSTERS – ½ Dozen/ Shucker's 13 $17/36
LITTLENECKS – ½ Dozen/ Shucker's 13 $8/20
JUMBO GULF SHRIMP COCKTAIL – Classic Tomato Horseradish Sauce $18
THE SAMPLER – 4 Oysters, 4 Littlenecks, 4 Shrimp $26
SOUPS
THREE ONION GRATINEE – Spanish-Sweet-Red Onions, Hearty Crouton, Melted Gruyere $8
NEW ENGLAND CLAM CHOWDER – Potato, Celery, Onion, Parsley, Pancetta, Milk $9
ASK ABOUT OUR SOUP OF THE DAY
STARTERS
HOUSEMADE TATER TOTS – Cheddar, Russets, Spiced Ketchup $8
MAC & CHEESE SKILLET – Double Smoked Bacon, Peas, Cheddar $10
MARYLAND CRAB CAKE – Jumbo Lump, Zesty Tartar Sauce $20
CRISPY CALAMARI – Mint Remoulade, Point Judith Style or Marinara $13
STEAMED LITTLENECK CLAMS – White Wine, Butter, Shallot, Parsley $16
WILD MUSHROOM FLAT BREAD – Caramelized Mushroom Medley, Grilled Red Onions, Poached Pear, Goat Cheese, Fennel Fronds $16
CAPRESE FLAT BREAD – Fresh Mozzarella cheese, ripe grape tomatoes with a tangy Balsamic glaze $16
SALADS
ICEBERG WEDGE – Buttermilk Bleu, Bacon, Tomato $9
CAESAR – Romaine Hearts, Parmesan, Croutons $10
BABY ARUGULA – Goat Cheese, Toasted Almonds, Local Apples, Lemonette $11
CHEF SALAD – Spring mix, ham, turkey, bacon, egg, tomato, cucumber, cheddar cheese $12
BETWEEN THE BREADS
Served with Bread and Butter Pickles and Sea Salt Fries.
THE CLARKE BURGER – Tomato, Lettuce, Onion $16
THE "CADILLAC" – Double Smoked Country Bacon, Onion, American Cheese $18
BBQ BLEU BURGER – Buttermilk Bleu Cheese, Crispy Onions, Sweet & Smoky BBQ Sauce $17
SMOKEHOUSE BBQ PULLED PORK BURGER – Signature BBQ sauce, cheddar cheese, pulled pork, coleslaw, crispy haystack onions, with garlic fries $24
ADD: AMERICAN, BUTTERMILK BLEU, GRUYERE, VERMONT CHEDDAR, SAUTEED & CRISPY ONIONS, SAUTEED MUSHROOMS $2
ADD: FRIED EGG, BEARNAISE, DOUBLE SMOKED BACON $3
TRADITIONAL REUBEN – Marble Rye, White Kraut, Slaw, Swiss, Russian Dressing $14
MARYLAND JUMBO LUMP CRAB CAKE – Chunky Tartar Sauce, Coleslaw, Potato Roll $22
CRUNCHY CHICKEN SANDWICH – Bibb Lettuce, Tomato, Salsa Verde Aioli, Potato Roll $14
NEW ENGLAND STYLE LOBSTER ROLL – Lobster Meat, Bibb Lettuce, Split Top Roll Choice of: Classic Maine (Cold with Tarragon Mayo) or  Connecticut Style (Hot with Melted Butter)  $31
MAIN COURSE
Two 8oz SINGLE BONE IN PORK CHOPS $24
12oz HAND CUT FILET MIGNON $48
6oz PETITE FILET $37
12oz NY STRIP STEAK $34
The above served with choice of two sides and a sauce: Au Poivre, Béarnaise, Bordelaise, Garlic Butter.
ADD ON to any Steak:
Shrimp $18
Scallops $32
Mushrooms $2
Onions $2
HAND CUT PRIME RIB – Baked Potato, Creamed Spinach, Au Jus Horseradish Cream Sauce $30
BIG CITY CHICKEN POT PIE – Buttermilk Cheddar Crust, Rich Broth, Farm Vegetables $19
HERB GRILLED BONE-IN CHICKEN BREAST – Mashed Potatoes, Grilled Asparagus, Chicken Jus $23
SLOW BRAISED BONELESS BEEF SHORT RIB – Honey Mustard Crust, Mashed Potatoes, Broccolini, Natural Jus $30
SEAFOOD ENTREES
GRILLED SALMON – With a choice of two sides $26
PAN SEARED SCALLOPS – With a choice of two sides, Buerre Blanc $40
FRESH CATCH OF THE WEEK  – MP
SEAFOOD BRODETTO – Shrimp, clam, lobster, mussels, scallops, Calamari $32
PROPER FISH & CHIPS – Zesty Tartar Sauce, Maloon Sea Salt, Lemon Wedge, Coleslaw $18
CRISPY JUMBO SHRIMP – Garlic Butter Fries, Coleslaw, Lemon $21
PASTA
PASTA PUTTANESCA – Squash and Zucchini Noodles, garlic, olives in tomato sauce $21
BLACKEN CHICKEN ALFREDO – Chicken crusted with house blend blacken seasoning over fettuccine noodles and creamy Alfredo sauce $22
RISOTTO
PARMESAN RISOTTO – Topped with Roasted Brussels Sprouts, Broccolini, Grilled Asparagus, Baby Carrots $18
GOAT CHEESE AND MUSHROOM RISOTTO – Parmesan Risotto, Goat Cheese and Mushrooms $18
TOMMY T'S SEAFOOD RISOTTO – Parmesan Risotto, Shrimp, Scallops and Lobster $38
SIDE ORDERS
SEA SALT FRIES $4
CRISPY HAYSTACK ONIONS $5
GARLIC BUTTER FRIES $6
MASHED POTATOES $6
SWEET POTATO FRIES $6
BAKED POTATO $6
ASPARAGUS $6
JASMINE RICE $3
STEAMED BROCCOLI $6
CREAMED SPINACH $6
ROASTED BRUSSELS SPROUTS $6
SMALL HOUSE SALAD $3
DESSERT
WHISKEY BREAD PUDDING $6
HUDSON VALLEY CHEESECAKE $7
RUSTIC CHERRY PIE $10
KEY LIME PIE $7
FUDGE BROWNIE SUNDAE $7
4 LAYER CHOCOLATE CAKE $6
If you have a food allergy, please notify us. Allergen information for menu items is available. Ask an employee for details.
Parties of 8 or more subject to 20% gratuity. Please note we do not split checks of parties 8 or more.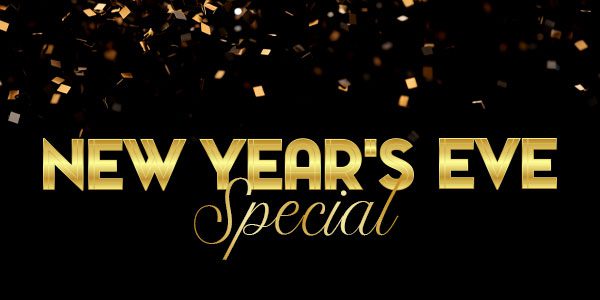 New Years Eve Special

Sunday, December 31
4pm-10pm
Salad
Warm Beet Salad with Feta, Almonds, and a Shallot Champagne Vinaigrette
Entrée
Lobster Thermador with Risotto and Heirloom Carrots
Dessert
Crème Brulee
$80
Salad
Warm Beet Salad with Feta, Almonds, and a Shallot Champagne Vinaigrette
Entrée
Cherry Espresso Duck with Broccolini and Duck Fat Roasted Fingerlings with Rosemary
Dessert
Crème Brulee
$36