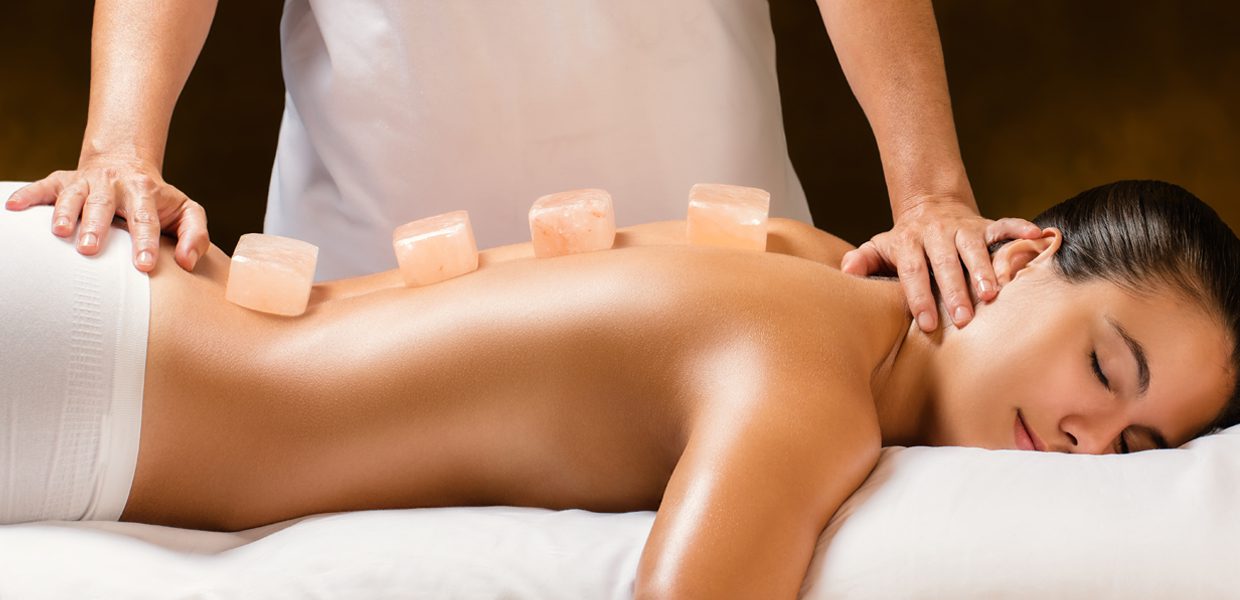 MASSAGES
Experience some much needed "me time" with one of our Massages today! Our team of professional licensed massage therapists can help you to relax or use more specific massage modalities to focus on a particular area of concern or pain. With heated warming beds and the use of essential oils, surely your stress will melt away!
View our Massage Therapy offerings below. Please note our service pricing does not include gratuity.
INTEGRATED MASSAGE
A full body massage integrated per your requests and needs that is gentle and relaxing using long strokes, kneading, deep circular movements and more to relax muscles and energize you.
60 min. – $85
90 min. – $115
HOT STONE MASSAGE
A hot stone massage may begin with a traditional Swedish massage technique to prepare your muscles. Your spa therapist will then place the warm stones on key acupressure points on your body. The stones warm and relax your muscles, allowing deeper pressure to be applied during your massage. Using massage oil and a combination of strokes and techniques, your spa therapist will massage your neck, back, arms and legs, with and without the stones
60 min. – $140
90 min. – $160
AROMATHERAPY MASSAGE
An aromatherapy massage is a popular multi-purpose way of using supplemental care for health issues. Essential oils can be used to help alleviate discomfort from skin issues, sinus problems, and help with pain relief. The aroma from the essential oils also provides mental stimulation for clients creating a memorable and pleasing massage session. Choose your oil with your therapist upon arrival for your specific needs.
60 min. – $90
90 min. – $125
PRENATAL PAMPERING
Prenatal massage is therapeutic bodywork that focuses on the special needs of the mother-to-be as her body goes through the dramatic changes of pregnancy. It enhances the function of muscles and joints, improves circulation and general body tone, and relieves mental and physical fatigue.
60 min. – $95
COUPLES MASSAGE
Life is a balancing act, and it can be a challenge to juggle everything at once. If you're craving some extra time with someone special, This massage is rejuvenating and relaxing. We'll set up massage tables side-by-side, allowing you to indulge in a stress-reducing, muscle-relaxing experience together!
60 min. – $190
90 mi. – $250
MASSAGE ENHANCEMENTS
HIMALAYAN FOOT SCRUB
One of the world's purest salts and accessible in few places, Himalayan scrubs feature salt extracted from ancient salt mines in the ocean. The salt scrub is used for skin nourishment, mineral replenishment, and helps slough off dead skin cells. Hydrating to the skin and promotes increased circulation.
$15
CRYOTHERAPY- Cryotherapy is the use of ice applied directly to the skin for the intended purpose of reducing swelling/edema at the sight of concern. The therapist will use the ice and gently massage strokes, if appropriate, to reduce swelling, and encourage healing at the target area.
$20
Please Note: Prices on our website are updated on an as-needed basis due to vendor contracts. However, please be aware that prices for services are subject to change at any time. Thank you for your understanding and continued business.
Please Note: It is a NYS regulation and an Serenity Spa policy that a child under the age of 14 must have a parent/guardian present in the room during any spa service.